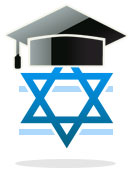 An exceptional biblical woman
The truly amazing thing about Deborah are the unique titles that she is given in the Bible: "At that time Deborah, a prophetess, wife of Lappidoth, was judging Israel" (Judges 4:4).
If the fact that Deborah - a woman - served as a judge is not surprising enough, the Bible goes one step further and refers to her as a prophetess. The Hebrew word neviah (נביאה), which is the female form of the Hebrew word for prophet (navi), is very rare, only appearing five times in the entire Bible. But in the following chapter the Bible goes even further in its praise of Deborah: "you arose as a mother in Israel" (em b'Yisrael) (Judges 5:6). This is the only time this term appears in the Bible, making Deborah a truly exceptional matriarch.